Annapolis Neighborhoods: Where to Live in Anne Arundel County
Posted by Bob and Ronna Chew on Wednesday, November 24, 2021 at 10:16 AM
By Bob and Ronna Chew / November 24, 2021
Comment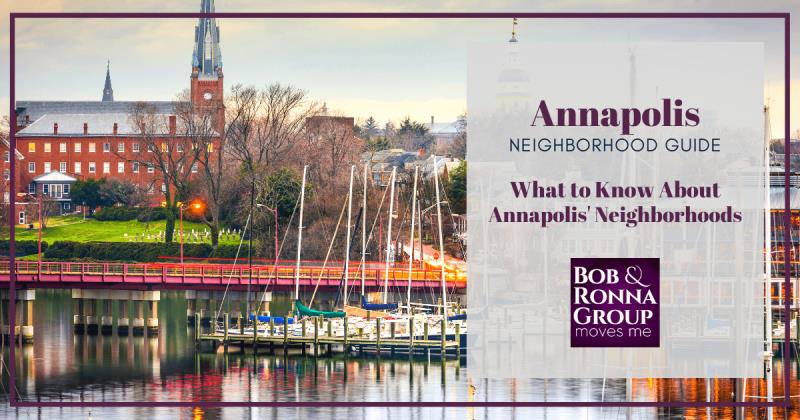 Annapolis is one of Maryland's most dynamic cities. The capital of the Free State, it's the center of Maryland's government but also offers unique history, sightseeing, food, and access to the waters of several rivers and the Chesapeake Bay—Annapolis is even called "America's Sailing Capital." But every part of the city of Annapolis is different, and some neighborhoods may be more suitable than others for each future resident. Keep reading for a guide to the neighborhoods and districts of Annapolis, MD.
Sections of Annapolis, MD
Annapolis isn't the biggest city in Maryland or even in the region. This city on the Chesapeake Bay is home to only about 40,000 residents. But those looking to move to Annapolis still have their choice of several distinct sections and neighborhoods. Traditionally, the city has been unofficially divided into portions based on geography, both natural ones like the Severn River and artificial ones like roads and subdivisions. The city's primary sections can be divided into northern Annapolis, eastern Annapolis, central Annapolis, and western Annapolis. Most also consider the legally separate but geographically adjacent Highland Beach as another section of the broader Annapolis metro area. Each of these sections offers something different to would-be residents who know what they're looking for.
Central Annapolis
Central Annapolis Zip Code
Central Annapolis is the beating heart of the city, home to its downtown area and the prestigious U.S. Naval Academy. It's located in zip code 21401 and is roughly bounded by Weems Creek to the northwest, the Severn River to the northeast, and Spa Creek to the south. The city of Annapolis was founded in this central area in 1649, making it one of the most historic areas of the state and nation. It's considered to have some of the best-remaining 17th- and 18th-century architecture in the country and was even briefly the temporary capital of the United States!
The city had been around for nearly 200 years before it became the site of the Naval Academy, a rigorous military school designed to create the next generation of Navy and Marine Corps officers. The Academy is also one of Annapolis' top tourist attractions, drawing over 100,000 visitors a year. Central Annapolis is home to St. John's College, the third-oldest higher education institution in the United States. The downtown area is also the site of many of the city's top restaurants and shops, many located around West Street or Main Street.
Central Annapolis Neighborhoods
Central Annapolis is made up of a diverse collection of neighborhoods, from the more commercial parts of downtown to the residential areas north of College Creek. Homes in the area generally range from $300,000 to $500,000 on the low end, while larger or historic homes downtown can sell for more than $1 million.
Prospective homebuyers need to keep in mind that relatively little private housing is available in the areas immediately surrounding the Naval Academy and St. John's College.
List of Central Annapolis Neighborhoods
Annapolis Center
St. John's College Area
U.S. Naval Academy Area
Wardour Bluffs
West Annapolis
Admiral Heights
Homewood
Eastern Annapolis
Eastern Annapolis Zip Code
Located between Spa Creek, Back Creek, and Forest Road, Eastern Annapolis is located in the 21403 zip code. The area is known as a more laid-back part of the city, though it's located just a short drive or walk from downtown and the Naval Academy. The Eastport area, in particular, is known for picturesque views of central Annapolis, as well as the harbor and Severn River. Eastern Annapolis has played a significant role in the past and present of the city's maritime character. It's home to the Annapolis Maritime Museum and Park, which explores the history of the waters surrounding Annapolis, and offers incredible waterfront views.
Eastern Annapolis also provides several ways to get out on the water. Much of the waterfront consists of marina space, along with businesses that rent boats or kayaks. Foodies will also love the area's Restaurant Row, where diners can enjoy fresh local seafood and other cuisines at waterfront eateries. These include the popular Chart House and the Boatyard Bar and Grill. Eastern Annapolis is home to Truxtun Park, a large green space that includes walking trails, a boat ramp, sports fields, and a swim center.
Eastern Annapolis Neighborhoods
Eastern Annapolis offers some of the best waterfront homes and waterfront-adjacent living in the city. Modest homes or condominiums in the area start in the high $200,000s. Some of the most luxurious Annapolis homes can be found in the Eastport area, closest to the water and downtown. These usually list from the high six figures to exceeding $2 million.
These neighborhoods offer the unique advantages of proximity to downtown without some of the hustle and bustle of tourist areas.
List of Eastern Annapolis Neighborhoods
Eastport
Watergate Village
Tyler Heights
Primrose Acres
Colony Hills
Eastport Terrace
Western Annapolis
Western Annapolis Zip Codes
Western Annapolis refers to a sprawling area north and west of the city's central district that also includes several unincorporated areas and private housing developments outside city limits. It stretches from Edgewater, west of the South River, all the way to Weems Creek and the Severn River, covering parts of the 21037, 21401, and 21405 zip codes. The area is a relatively balanced mix of residential and commercial space. These include the Annapolis Town Center, a mixed-use development that combines homes and apartments, businesses, retail, and dining. Other shopping options, from daily groceries to luxury stores, can be found in the area where U.S. Route 50 and State Route 450 intersect, including the Westfield Annapolis Mall.
Western Annapolis is also home to the Edgewater neighborhood, including the historic buildings of London Town and the waterfront recreation at South River Farms Park. In addition, private or gated communities like Sherwood Forest and Epping Forest, at the district's northern edge, and Cape St. John along the South River, provide higher-end homes and amenities for those looking to live close to Annapolis without the more crowded city feel. Western Annapolis also offers easy commutes to Washington, D.C., and the city of Baltimore while also allowing quick drives to downtown Annapolis.
Western Annapolis Neighborhoods
Western Annapolis neighborhoods can be found across a broad price spectrum. Buyers can find smaller or older homes from the mid $300,000s to the $600,000 range. However, luxury homes can easily stretch into the mid-single-digit millions, some including five or more bedrooms and private waterfront access. Buyers should be aware that much of the central part of Western Annapolis is strictly commercial space without much housing. However, those looking for multifamily homes or Annapolis condominiums may find their best options here.
With homes across the price range and convenient shopping and dining, Western Annapolis has something to offer for all homebuyers and potential Annapolis residents.
List of Western Annapolis Neighborhoods
Edgewater
Weems Creek
Bestgate
Epping Forest
Sherwood Forest
Gingerville
Cape St. John
Northern Annapolis
Northern Annapolis Zip Codes
The Severn River forms the southern boundary of this greener, more suburban part of Annapolis, comprising all or part of the 21012, 21409, and 21402 zip codes. It's accessible from downtown Annapolis via two bridges, one using U.S. Route 50, the other using State Route 450. Northern Annapolis includes several distinct communities, the largest of which are Arnold and Cape St. Claire.
Arnold spans the peninsula from the Severn to the Magothy Rivers, providing extensive waterfront access and many marinas and seafood restaurants. Arnold is also home to Anne Arundel Community College, one of the state's largest community colleges. Cape St. Claire began as a summer retreat for Washington and Baltimore residents in the mid-20th century but has since grown into a full-time residential community with easy access to downtown Annapolis and the Chesapeake Bay Bridge to the Eastern Shore.
Northern Annapolis also includes Sandy Point State Park, an extremely popular summer attraction thanks to its beach, boat ramps, fishing, and breathtaking views of the Chesapeake Bay Bridge. Other popular outdoor spots include the Navy-managed but publicly accessible Greenbury Point. The area's location on a peninsula also allows extensive access to the water for boating, fishing, crabbing, and other activities.
Northern Annapolis Neighborhoods
As one of Annapolis's more architecturally diverse sections, homes range from smaller, older houses to enormous, multi-million dollar luxury waterfront homes. On the low end, some can be found starting in the high $300,000s. However, the majority of homes here sell from the mid-to-high six figures, with some listing for over $10 million! North Annapolis also has many lots for sale for those looking to construct their own home.
Future residents looking for a quieter, more suburban feel with extensive water access will find what they're looking for in the neighborhoods and communities of Northern Annapolis.
List of Northern Annapolis Neighborhoods
Whitehall Manor
Yorktown
Cape St. Claire
Arnold
Winchester
Broad Neck
Atlantis
Walnut Ridge
Green Holly
Highland Beach
Located south and east of downtown Annapolis at the tip of the peninsula in the 21403 zip code, Highland Beach and its nearby communities offer distinct small towns a short drive from the city, as well as more traditional suburban bedroom communities. Highland Beach was founded in 1893 by the son of legendary abolitionist and writer Frederick Douglass as the first Chesapeake Bay resort community for African-Americans. The town quickly became a regional hub of Black culture and society and was the first African-American municipality in the state when it was incorporated in 1922. This heritage lives on with Highland Beach's Frederick Douglass Museum and Cultural Center.
The town itself is very small, less than one-tenth of a square mile, and is supported by surrounding communities, the most notable of which is Hillsmere Shores. This waterfront development includes around 1,200 homes built initially starting in the 1960s. Many have been replaced or completely renovated in the years since, providing some of the more high-end homes in the district. The private K-12 educational institute known as The Key School is also located in this neighborhood. The Highland Beach area is also home to numerous parks, including Quiet Waters Park, Thomas Point Park, and, of course, the sandy shoreline that gives Highland Beach its name.
Highland Beach Neighborhoods
Highland Beach offers a variety of communities, each with its own character and amenities. Homes in the area are primarily single-family detached houses and typically range from the mid $400,000s to over $800,000. Multi-million dollar luxury homes are also available, usually along the waterfront.
Most of these communities range from between 10 and 20 minutes from downtown Annapolis by car.
List of Highland Beach Neighborhoods
Highland Beach
Hillsmere Shores
Arundel On The Bay
Annapolis Overlook
Chinks Point
Thomas Point
There's Chesapeake Bay Charm All Throughout Annapolis
Each of the five sections of the Annapolis area offers different advantages, from proximity to the water or downtown to quieter communities or those with easy commutes to the D.C. or Baltimore areas. Homebuyers of all price ranges will have options throughout the region, with choices as low as the $200,000s or as high as $10 million or more. Still, all parts of the area benefit from the wonderful advantages of Chesapeake Bay living, just waiting for new residents to discover.
If you're looking for your Annapolis dream home, contact The Bob & Ronna Group of Berkshire Hathaway HomeServices with Maryland Real Estate Advantage at (410) 465-4440 to get in touch with an Annapolis real estate agent who can help find the perfect place for you.