Explore Annapolis Architecture: Neighborhoods With Historic Homes & Architectural Styles
Posted by Bob and Ronna Chew on Wednesday, October 26, 2022 at 12:52:03 PM
By Bob and Ronna Chew / October 26, 2022
Comment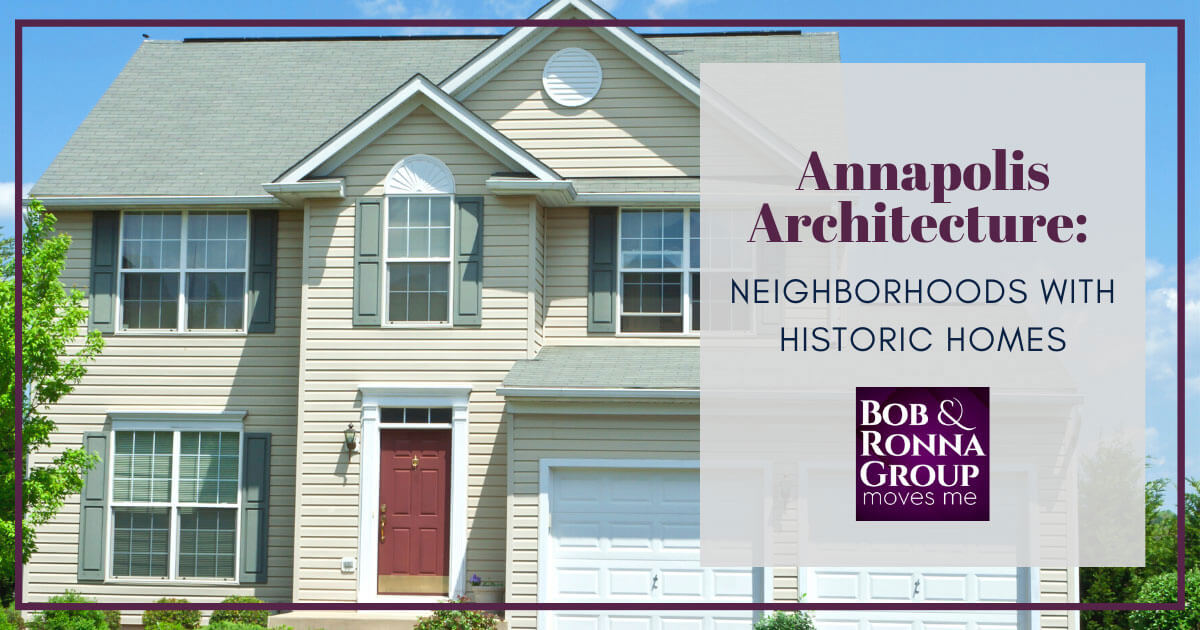 The homes for sale in Annapolis offer various architectural styles for buyers to consider. Buyers should know the features of different houses to ensure they're in sync with what they're looking for. For example, they might like the home's exterior because of its curb appeal but may realize the interior doesn't match their lifestyle. Because Annapolis has several distinct architectural styles, buyers need to know about them before home shopping in the area. Here's a closer look at the main architecture types on the market in Annapolis, Maryland.
Palladian Style Architecture
The Palladian style is named after Italian architect Andrea Palladio and originated in the 16th century. Palladian architecture incorporates Greek and classical Roman designs and became popular in Colonial America during the 1700s.
Palladian style features columns and pillars supporting porticos or open structures. Symmetry is essential to the style, as both sides of the home are mirror images.
One of Annapolis's most striking examples of the Palladian style is the Hammond-Harwood House Museum, located at 19 Maryland Avenue near the US Naval Academy. Built in 1774, the Hammond-Harwood House inspired Thomas Jefferson's original design for Monticello. Regular group tours and field trips are available for those who want to see the interior stylings up close.
Due to their elaborate designs, most Palladian-style homes are in the luxury home sector. One neighborhood where buyers are likely to find Palladian homes is Murray Hill. Located between Spa Road and Spa Creek and just southwest of the Hammond-Harwood House, the neighborhood has many single-family homes featuring Palladian-style design elements. The quiet neighborhood has several Annapolis marinas for residents to launch their boats.
Bungalows & Arts and Crafts Style Architecture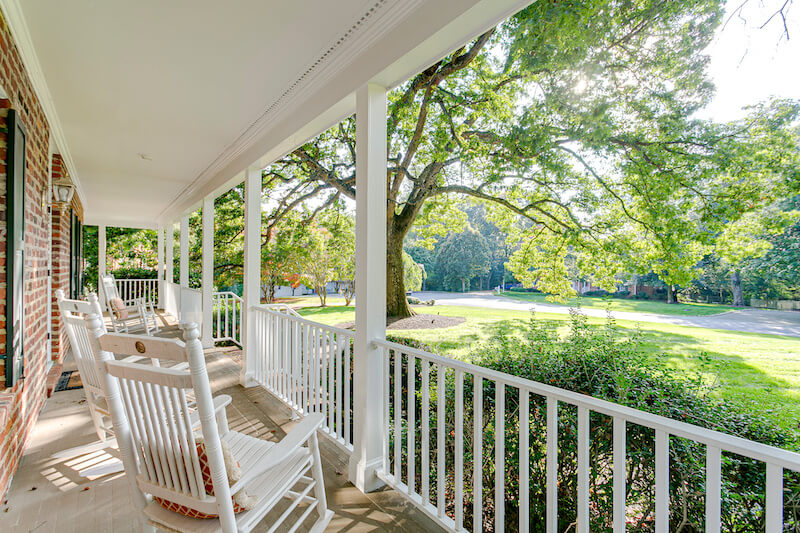 Bungalow homes originated in the US in the late 1800s. This architectural style refers to the exterior of a type of home, while "Craftsman" or "Arts and Crafts" refers more to an interior home style. While people use bungalows and Craftsman homes interchangeably, they mean two different things.
A bungalow will usually have a broad, covered front porch. Sloped roofs, large front windows, and open interior floor plans are other distinctions of bungalows. Craftsman interiors are warm and inviting, featuring wood floors and cabinetry and the use of natural light. Fireplaces and built-in bookcases are also common in Craftsman interiors, along with eat-in kitchens and exposed ceiling beams.
Annapolis' Eastport neighborhood contains many bungalow homes with Craftsman interiors. Water surrounds Eastport on three sides, so many waterfront homes match this style. The community is known for Restaurant Row on Severn Avenue, which features top dining options in one of the best neighborhoods in Maryland. Water access, yacht clubs, and marinas are available in several areas along Spa Creek, Back Creek, and the Severn River.
Second Empire Architecture
Builders construct many Annapolis homes in a simple box shape, most of which fall within the Second Empire style of architecture. They can be square or rectangular, or sometimes, an L-shaped building. This style was prevalent across the US from 1870 to 1890, but many examples date back to the Colonial period.
The Maryland State House is perhaps one of the most famous Second Empire buildings in this part of the country. Its construction was completed in 1779, and the state's General Assembly meets there for three months out of the year. The building was the site where George Washington resigned from the Continental Army after the Revolutionary War and where the Treaty of Paris was signed.
Anyone in the market for a Second Empire-style home in Annapolis should start their search in the Admiral Heights neighborhood. This community has many waterfront homes just north of the Historic District and borders the Navy-Marine Corps Academy Stadium. Numerous waterside parks make this a community to get outdoors and enjoy the local waterways and outdoor activities in Annapolis, and it has docks and boat slips in several locations.
Vernacular Style Architecture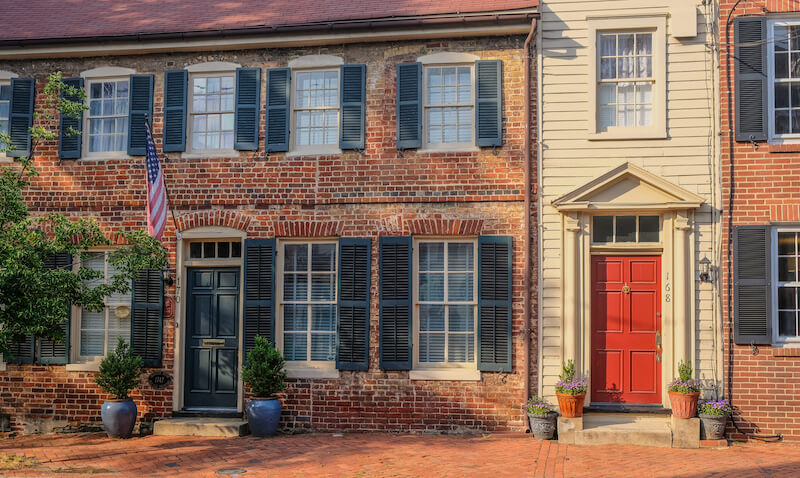 Vernacular architecture can be challenging to explain because it means different things stylistically, depending on the area or region. For example, a Vernacular-style home in Annapolis might be completely different than a Vernacular home in another country. It's a style in which locally sourced building materials are used to meet local needs.
Someone who designs a Vernacular-style house might not even be an architect—they build stylistically based on their needs and whatever materials are most prevalent. For example, many red brick buildings in Annapolis could fall within the Vernacular style because of the "red mud" that is so common along this part of the East Coast. Red bricks are plentiful and locally sourced.
The Historic District in Annapolis is one neighborhood containing many Vernacular-style homes and buildings. Annapolis builders constructed many Vernacular homes between the late 19th and early 20th centuries. Even some of the significant landmarks in this neighborhood, such as St. Anne's Church and St. John's College, could be considered to be within the Vernacular style. There are many single-family homes and townhomes in the Historic District that fit the Vernacular style as well.
Discover Annapolis' Historic Architecture
Annapolis is a city rich in American history, and its architectural styles reflect this. Many homes hearken back to types prevalent in the Colonial period, and many neighborhoods are "water privileged," with easy access to nearby rivers. Learning the different styles of homes available here should help locate one that fits any buyer's needs and desired lifestyle in Annapolis, Maryland.
If you're looking for your Annapolis dream home, contact The Bob & Ronna Group of Berkshire Hathaway HomeServices with Maryland Real Estate Advantage at (410) 465-4440 to get in touch with an Annapolis real estate agent who can help find the perfect place for you.