Best Jobs in Annapolis: Work Opportunities & Economic Guide [2023]
Posted by Brian Alexander on Friday, December 16, 2022 at 9:38 AM
By Brian Alexander / December 16, 2022
Comment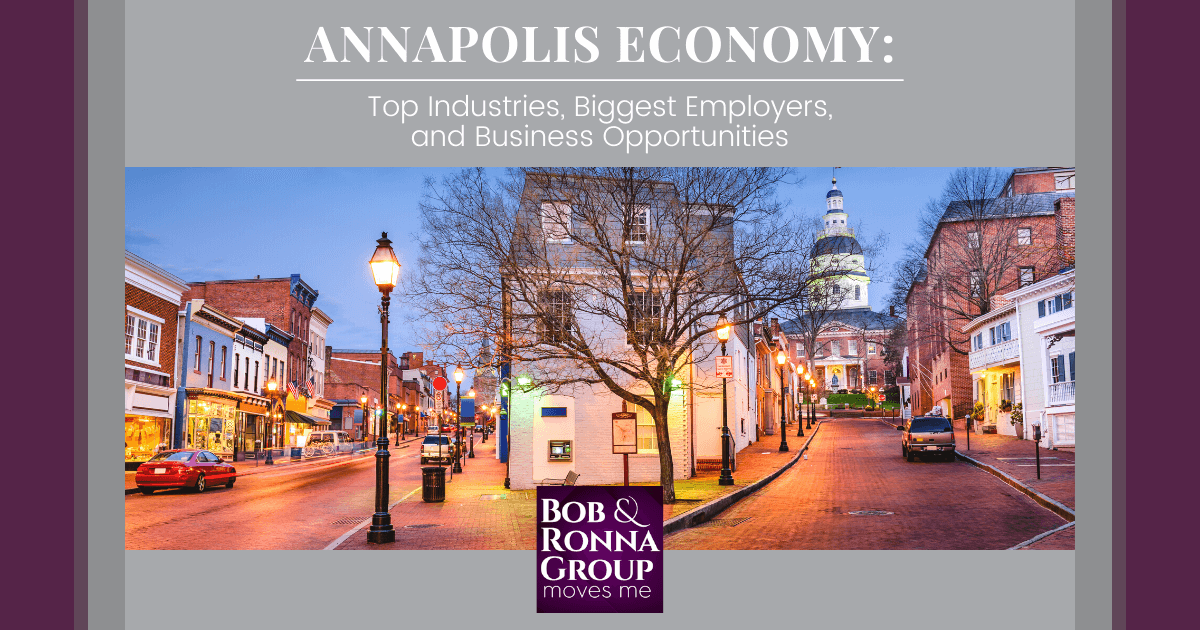 Known as America's sailing capital, Annapolis, MD, boasts thriving maritime and public administration industries supporting hundreds of local businesses, higher than average salaries, and lower than average unemployment and sales tax.
While economic factors are not the only ones to consider when choosing where to move, it's a good idea to understand the economic layout of an area before moving to a home in Annapolis. This knowledge can help make moving a smoother and easier process. Read on to learn about Annapolis' top industries, largest employers, and other details of the Annapolis economy.
Annapolis Industries
As Maryland's coastal capital, Annapolis has cultivated a diverse economy with thriving maritime, cybersecurity, advanced technology, professional and business services, and tourism industries. As of 2019, the top industry sectors in Annapolis were the following:
Accommodation and Food Services, employing 12.5% of the workforce
Professional, Scientific, and Technical Services, comprising 11.3% of workers
Public Administration, accounting for 10.6% of workers
Health Care and Social Assistance, at 10.1% of the workforce
Educational Services, employing 10.1% of workers
With about two million tourists visiting Annapolis each year, the accommodation and food services industry is the city's largest, with around 2,700 employees. Annapolis' unique location on the Chesapeake Bay helps drive tourism in the area and provides fresh local seafood for the city's numerous restaurants.
Much of Annapolis' professional, scientific, and technical services industry focuses on financial and legal occupations. However, the sector also includes services like photography, advertising, and research.
With Washington, D.C., just 30 miles west and the Maryland State House located in the heart of Annapolis, it's no surprise that public administration is such a prominent industry in the Maryland capital. Annapolis is also the seat of Anne Arundel County, so county governance also takes place there.
Although the health care and social assistance industry is one of Annapolis' largest, the city has fewer workers in the industry than many other cities of similar size. That said, there are numerous health care centers and facilities within the city.
For educational services, many work in Annapolis' various public and private schools. Due to Annapolis' position on the coast and near the national capital, the United States Naval Academy calls the city home.
Annapolis, MD, does not depend on a single industry to survive but instead has multiple thriving industries fueling its economy.
Top Industries in Annapolis
Accommodation and Food Services
Professional, Scientific, and Technical Services
Public Administration
Health Care and Social Assistance
Educational Services
Other Services, Except Public Administration
Retail Trade
Top Employers in Annapolis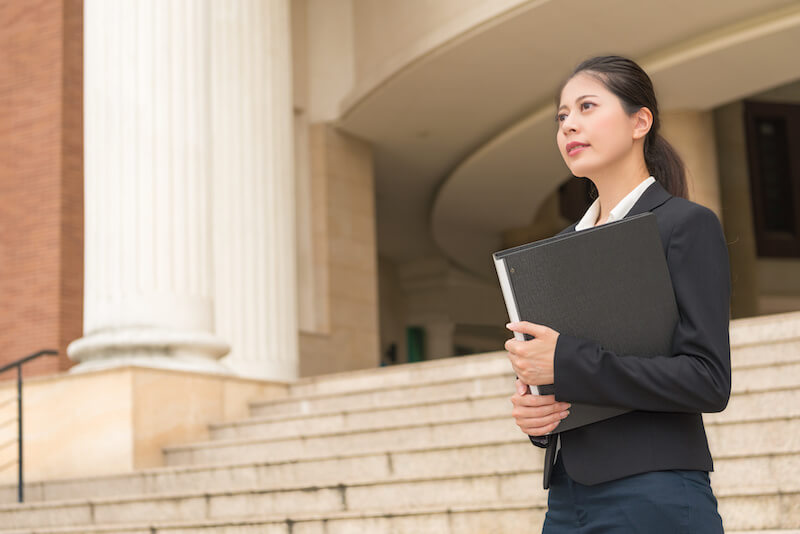 Annapolis' top employers are the state, county, and local governments. However, the United States Naval Academy, St. John's College, Annapolis Waterfront Hotel, and Annapolis Yacht Club also provide many employment opportunities in the city.
With so many working in public administration, it's no surprise Annapolis' top employers are various levels of government. The State of Maryland employs over 12,000 workers, the Anne Arundel County Government has nearly 5,200, and the City of Annapolis over 500.
Established in 1845, the United States Naval Academy is the undergraduate college for the U.S. Navy. Students at the Naval Academy can study numerous fields, including chemistry, history, mathematics, and various forms of engineering. Each year, around 1,000 midshipmen graduate from the Academy.
Meanwhile, the nearby St. John's College is one of the nation's oldest institutes of higher learning. First established in 1696 as King William's School, the college was renamed in 1784. The small school features a single Bachelor's Degree in Liberal Arts. This degree is equivalent to a double-major in Philosophy and the History of Science.
The Annapolis Waterfront Hotel is the city's only waterfront hotel, overlooking the busy Annapolis Harbor. In addition to supporting the local tourism industry, the Annapolis Waterfront Hotel also hosts meetings, weddings, and other events. The hotel also connects to Pusser's, a Caribbean grille featuring local seafood and the world-famous Pusser's Painkiller.
Just down the street lies the Annapolis Yacht Club. Originating as an informal canoe club in 1886, the Annapolis Yacht Club now has 1,600 regular members. The club hosts numerous events, including international competitions such as the Star Class World Championship.
Although these companies are the largest employers in Annapolis, over 200 businesses in the city employ at least 100 workers, and there are many more employers with fewer employees.
Because the cost of living in Annapolis is significantly lower than living in the capital, many residents employed in Washington, D.C., choose to live in Annapolis and commute to work.
Additional Large Companies in Annapolis
Colfax
Anne Arundel County Public Schools
Anne Arundel Medical Center
Ledo Pizza
United Association
Information via Zippia.com
Annapolis Economy Facts and Figures
Annapolis, MD boasts higher than average salaries and a lower than average unemployment rate and sales tax. However, Annapolis residents pay a slightly higher income tax rate than in other parts of the country to help pay for local public services.
Salaries in Annapolis tend to be higher than in other parts of the nation, including within the State of Maryland. While Annapolis' average income is around $44,000, the U.S. average is just about $29,000. Annapolis also has a median household income of $75,000 compared to the U.S. average of $53,000. Per capita income in Annapolis is around $45,000. Meanwhile, it is about $31,000 throughout the United States.
Annapolis' unemployment rate is lower than average, sitting at a respectable 5%. Compared to the U.S. average of 6.0%, this is quite good. The employed population of Annapolis is about 21,000 strong, reflecting the city's relatively small size.
Economists also predict future job growth in Annapolis to be about 31% over the next ten years, just slightly lower than the U.S average of 34%. Using its Economic Development Strategic Action Plan, the city hopes to continue building a diverse economy that can stand the test of time while not compromising Annapolis' unique characteristics.
Additionally, Annapolis residents benefit from a low sales tax rate of just 6%. This rate is a bit lower than the U.S. average of 7%. Meanwhile, the income tax rate for Annapolis is 7.3%, which is slightly higher than the U.S. average of 5%. This difference is due to Maryland's statewide progressive income tax and an income tax levied at the county level.
While the income tax in Maryland is somewhat higher than in other states, Annapolis' economy fares better than most others. With high salaries and low unemployment, Annapolis can offer plenty of opportunities for well-paying work.
New Residents of Annapolis Have Diverse Work Opportunities
Annapolis, MD, has carefully crafted a diverse economy based on the maritime, tourism, and public administration industries. Local businesses and government offices are the backbone of Maryland's coastal capital and support relatively high incomes and low unemployment in the area.
Living in a beautiful waterfront home in Annapolis and waking up to views of the Chesapeake Bay is a dream of many, and understanding nearby economic prospects can help determine if the city is a good fit. However, raw economic data is just one factor to consider when choosing to move to Annapolis.
If you're looking for your Annapolis dream home, contact The Bob & Ronna Group of Berkshire Hathaway HomeServices with Maryland Real Estate Advantage at (410) 465-4440 to get in touch with an Annapolis real estate agent who can help find the perfect place for you.