Get the Best Chesapeake Bay View in Annapolis: 4 Construction Styles That Maximize Water Views
Posted by Bob and Ronna Chew on Thursday, November 4, 2021 at 11:44 AM
By Bob and Ronna Chew / November 4, 2021
Comment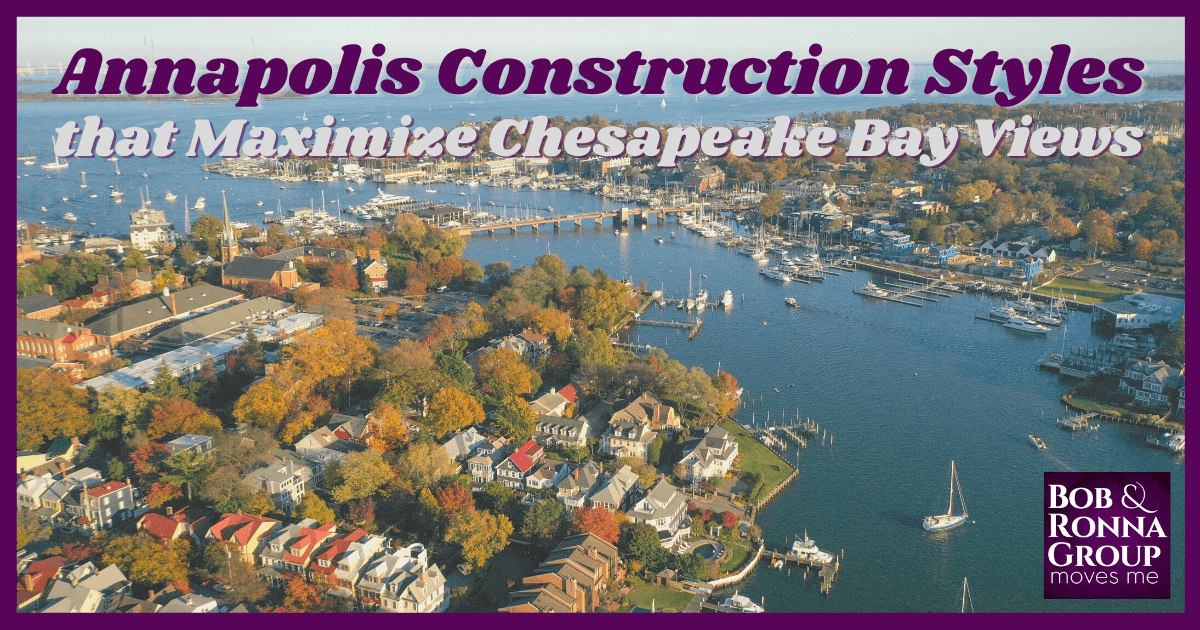 The Chesapeake Bay in Annapolis has plenty to offer. With over 350 miles of shoreline characterized by pristine waterways, it's no surprise the most desirable waterfront homes for sale in Annapolis boast unbelievable panoramic views of the bay.
People shopping in the Annapolis real estate market will want to make sure they're getting the best value when buying waterfront homes. Keep reading to learn about construction styles that promise the best views of Chesapeake Bay.
Maximize Your Window Space
Windows do more than just let in the fresh air. They bring in natural light, making a room feel airy, spacious, and brighter. Windows also capture the outdoors, creating a feeling of serenity, and the bigger they are, the better your water views of Chesapeake Bay will be.
To select windows that maximize the view, consider your home's orientation first. For instance, for homes with a rear-oriented view of the bay, large picture windows or floor-to-ceiling windows along the back of the house will offer an expansive view of the water. Also, since such windows have no glazing bars, they pair well with open-floor-plan homes, creating a gallery-like feel in your space and a seamless transition between the indoors and outdoors. Other window types that offer great water views of Chesapeake Bay include:
Bay and bow windows
Single or double hang windows
Sliding windows
Casement windows
Also, prioritize room positioning to select window designs that maximize water views of the bay without impeding privacy. Keep in mind that window frames come in various materials, ranging from aluminum and fiberglass to vinyl. Choose an energy-efficient yet durable window frame material like aluminum as it's weather-resistant and durable, yet thin and clear enough to capture the stunning scenery.
Open Floor Plans Let You See the Water from Anywhere
Also known as an open concept, an open floor plan prioritizes open spaces in a home by combining traditionally divided rooms, such as the kitchen and living area. An open floor plan can maximize your water views of Chesapeake Bay by minimizing obstructions. With fewer barriers and large windows, natural light flows throughout the home, and the eye is naturally drawn to the beautiful view outside.
For instance, an open floor plan where utility areas are cleverly designed out-of-sight can be paired with large panoramic windows and glass walls to create a seamless flow throughout the space while allowing direct views of the bay from the foyer.
Besides great views, an open floor plan also connects the major rooms of the home, allowing hassle-free entertainment since all guests are in one large area. The layout also makes a home bigger. A good designer brings the outdoors in since the ample open space naturally flows onto outdoor relaxation areas like the balcony and porch.
Because it's naturally lit, an open floor plan also helps reduce energy bills and makes homes more energy-efficient. Design an open floor around your view of the bay to enjoy it from multiple rooms and angles. Consider a renovation project to incorporate large windows that allow you unobstructed views of already built traditional homes.
Take in the Views from Outdoors
Another excellent way to take advantage of the beautiful scenery the Chesapeake Bay offers is by incorporating outdoor living areas such as a deck or porch into your home's construction. They offer unhindered water views, motivating property owners to spend more time outdoors while still being within the comfort of their homes. For example, since it's typically screened-in with glass and has a roof, a tastefully designed lanai allows homeowners to enjoy direct captivating views of the bay while being protected from the elements.
Outdoor living areas also boost property values and add functional living space to a home. For instance, a deck can be designed into an outdoor gym, allowing homeowners the chance to exercise as they enjoy the view. A pier or dock on a waterfront home in Annapolis also means homeowners can enjoy watching the beautiful sunrise or sunset on the Chesapeake Bay right by the water.
But before you renovate or build any outdoor living area in your home in the Chesapeake Bay, find out about riparian rights first. In Maryland, a homeowner with riparian rights has direct access and the right to use the land and water along their property line. Although you won't precisely own the water, a waterfront home with riparian rights means you can set up a dock, build a pier near the water edge, or design a private beach without violating any law.
Bigger Is Better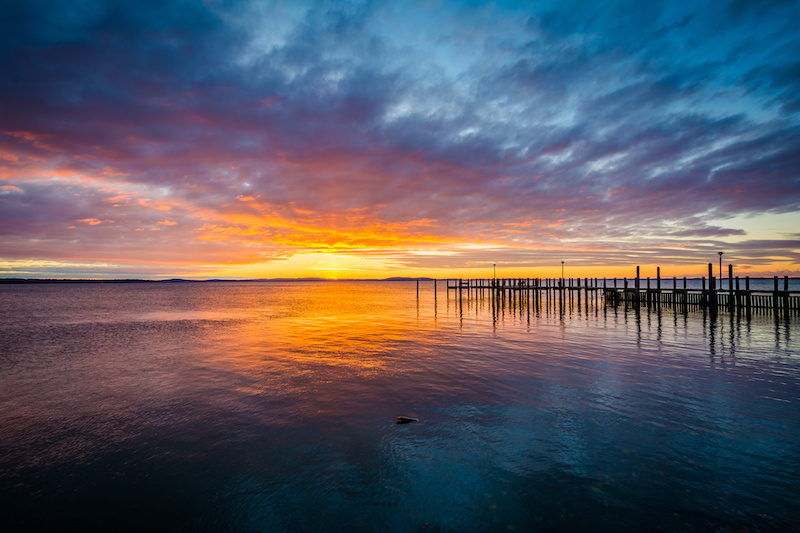 Opt for a large, luxurious home design for the best, most breathtaking views of Chesapeake Bay. A large home boasts a high resale value and means more space to build and design spacious, cozy decks and lanais that offer a clear view of this beautiful area.
With a larger luxury waterfront home in Annapolis also comes a chance to incorporate large, floor-to-ceiling or panoramic windows and glass walls that let you enjoy the true beauty of Chesapeake Bay right from the living room. If your property is small and horizontal space is an issue, maximize the vertical space by building a storied home with large windows and outdoor living areas oriented towards the bay.
A large home also means more space to add modern amenities that improve your comfort and overall lifestyle, such as an infinity pool that looks like it's pouring into the bay to improve water views.
Find Construction Plans that Improve Water Views of the Chesapeake Bay
A home with water views of Chesapeake Bay is an exciting investment. So it's only reasonable that you do your best to design a home that makes the most of these views. An excellent place to start is by purchasing a home with riparian rights.
This way, you'll be legally free to design it around the view, as well as add other elements that maximize the view, such as a deck or a boat dock. Go all-in on the design by building large windows and an open floor plan to create a home with the best views of the famous Chesapeake Bay.