Madeleine Rothe
Salesperson, REALTOR®, RLA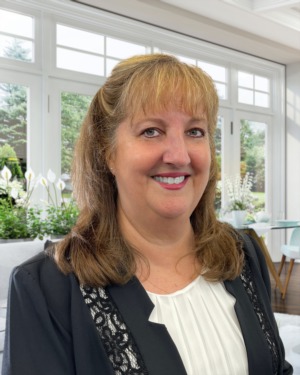 Meet Madeleine Rothe…a REALTOR® with the vision, compassion and experience to help clients find homes as unique as they are.
Originally from Quebec, Canada, Madeleine's family moved to a small town in the Blue Ridge mountains of Virginia when she was nine. They were the only immigrant family in the whole town that spoke a different language (French). But she has fond memories of growing up biking, hiking and exploring in the close-knit, rural community where everyone knew your name.
For college, Madeleine decided to stick close to home and earned a degree in special education from the University of Virginia (UVA) in Charlottesville. After a few years of teaching, Madeleine took a leap of faith and headed out to Kansas State University to pursue a master's degree in landscape architecture and planning. To support herself and her two daughters during those years, she began managing her father's eight investment properties in the small college town.
After finishing up her master's degree, Madeleine moved back East and landed a job as a landscape architect—where her interest in urban planning, development and revitalization continued to grow. Eventually, she began investing personally in real estate (as she had learned from her father). She even became an auction associate.
Madeleine says, "I liked going to auctions and working with investors because they're not emotionally attached to properties." But as time went on, she felt inspired to develop deeper and more meaningful relationships with clients searching for a forever home…not just an investment property.
Madeleine is really intrigued with the New Urbanist communities, like Maple Lawn and Greenleigh, that are growing in popularity around the Baltimore/D.C. region. These diverse, mixed, walkable communities follow a "village concept"—with nearby amenities, shops, and gathering places. And they remind her of the small village near Dresden in Germany where her father grew up.
 "Yes, these New Urbanist communities get a lot of things right," Madeleine says. "Because people do want a strong sense of community—now more than ever. But the actual homes themselves, like townhouse with four sets of stairs, don't always work for older people or people with physical limitations." Therefore, she takes special pride in finding affordable, livable homes that meet the unique needs of older people, disabled people, single parents, extended families who live together, and parents living with adult children.
Madeleine says she found her niche with The Bob & Ronna Group because they both have a deep and abiding mission to serve the community...
"My mantra now is 'how can I contribute in a meaningful way to my community?'" And Bob & Ronna seem share that same approach. And that's kind of rare."
In addition, Madeleine says, "At The Bob & Ronna Group, they have good, supportive systems in place. I suppose it's the German in me that appreciates their organization and efficiency. But ultimately, it benefits the client by making everything run smoothly and successfully."
When not on the hunt to find that perfect, livable home for a client, Madeleine enjoys spending time with her husband and two grown daughters, exploring the state, reading, and working on healing spaces in her Gardenville community. She also meets monthly with her woman's group, which helped create the Northeast Interfaith Peace Garden in Baltimore on Frankford Avenue.